Many of you who have an interest in country crafts will know of the many regional county patterns of billhooks that developed over centuries of use.  A similar diversity of scythe patterns were also once available.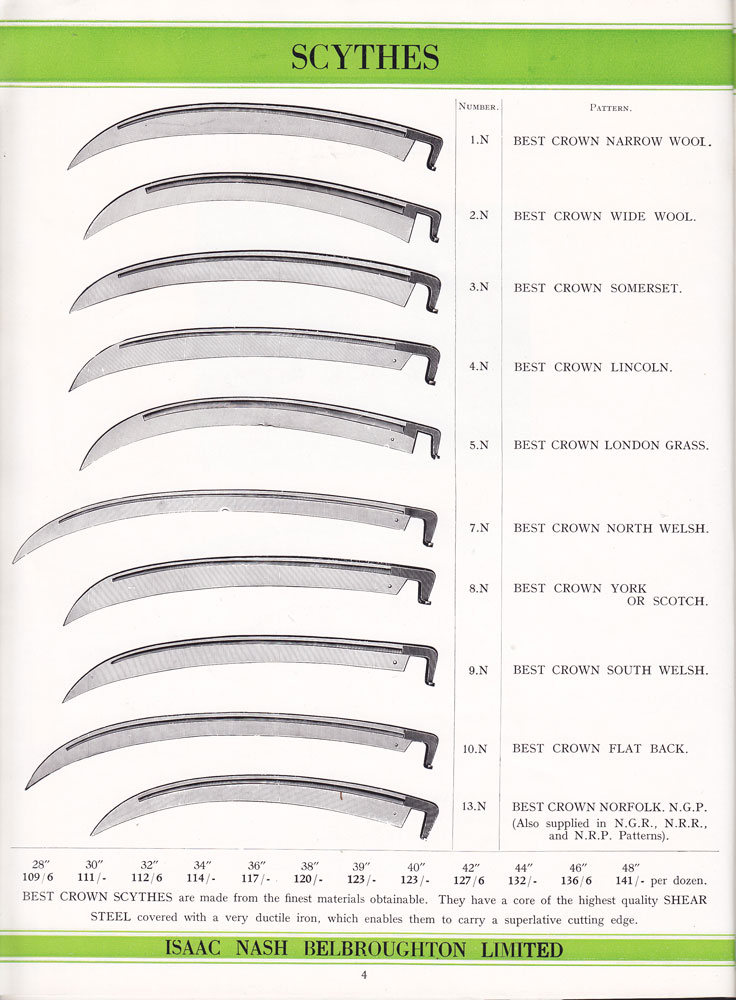 Issac Nash manufactured scythes in a number of regional patterns from little 18inch (46cm) Briar to a great 56 inch (142cm) broad heeled Devon.  The farmers in Norfolk called for a scythe with a broad heel while in the south of England, they liked the longer type known as "London Grass" (a throwback to the days when the meadows aroundLondonwere mown by the country folk to feed a large horse population in the city.)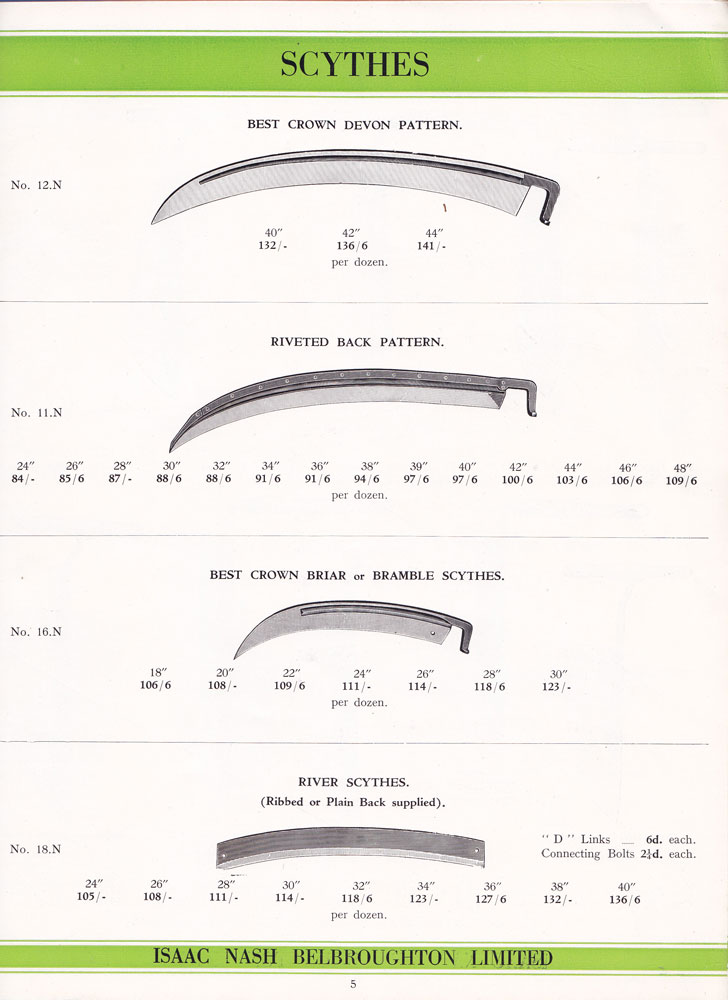 'Crown' scythes, as made in Belbroughton, Worcs. by Issac Nash from 1842 to 1939, became popular because they would not snap, they were easy to sharpen and held their edge for longer. Crown scythes were so named as the blade is forged along its midline so that it presents a concave surface to the ground and has a 'crowned' upper face.
These quality blades were not made of a single piece of stamped metal like cheaper inferior blades, but a forged laminate of four separate strips of iron and steel.  This was a multi-staged process involving many differently skilled scythesmiths.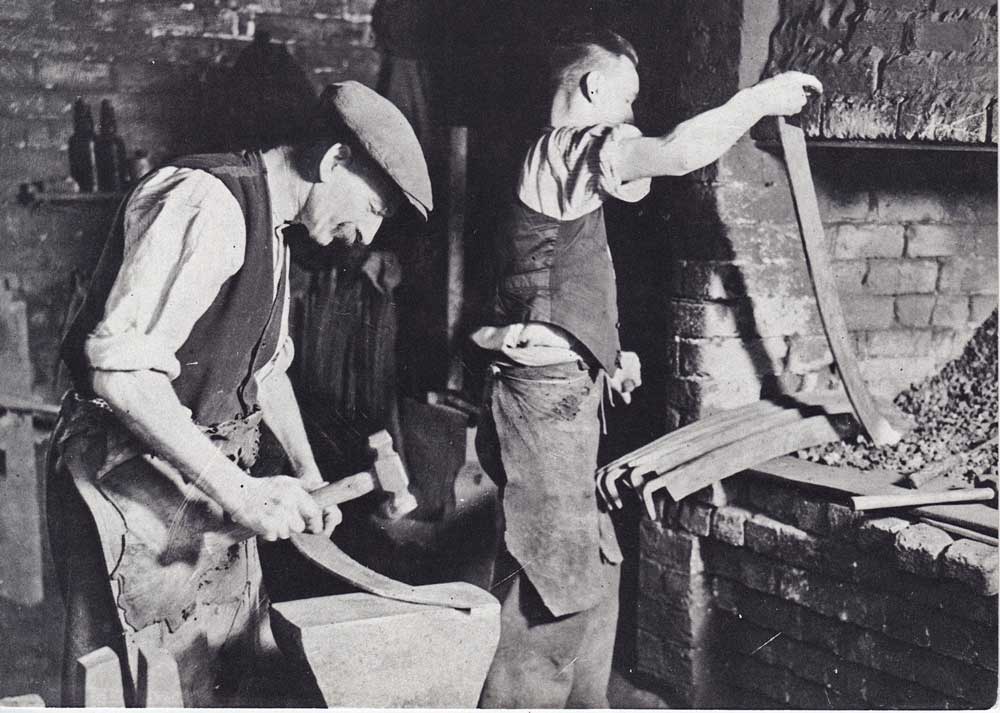 The hardened core of the blade was a strip of 'shear' steel which would form the cutting edge. Mild ductile steel was laminated around the core to support and strengthen the blade and form the raised back edge and tang. Whilst the initial stages of forging a English crown blade are not dissimilar to those used to shape Austrian blades, the finishing processes differ.  Austrian blades are hammered to a much finer degree and the edge drawn out and work-hardened by peening.  English crown blades were hardened by heating and tempering and the edge profile formed on a large diameter sandstone grinding wheel. The primary bevel is ground on the underside of the blade. The finished English blade once hardened, tempered and set will not take peening: the core steel is too hard and brittle. Sharpening can only be achieved with a stone. The structure of crown blades does make them easier to maintain than cheaper blades as all the whetstone had to do was to rub the soft covering of iron to reveal and put an edge on the thin hardened steel core.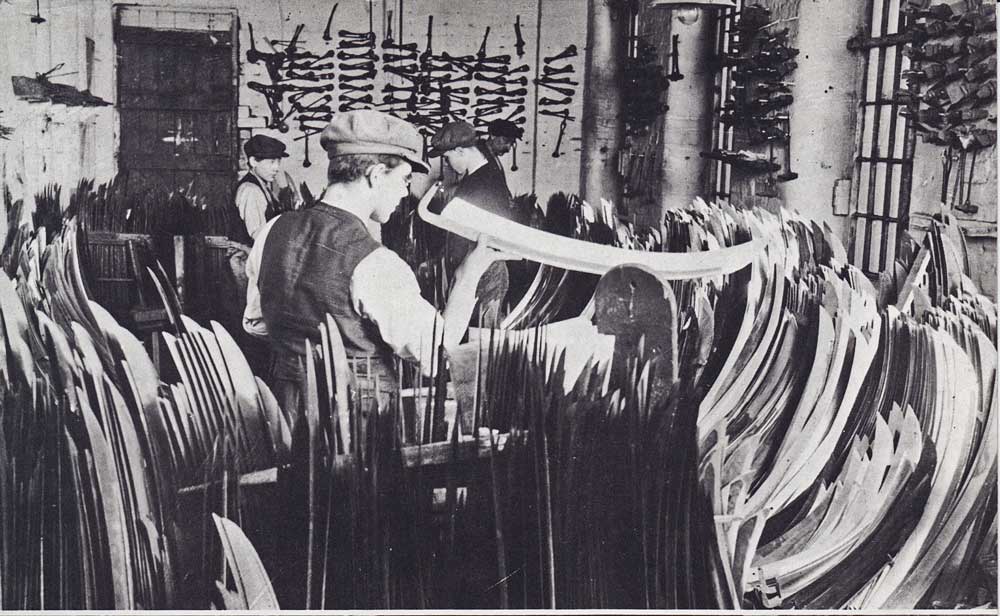 Crown blades were probably the best quality hand crafted English blades made but are not as refined as Austrian blades and are more than twice the weight. The simpler and therefore cheaper 'Patent' scythe blade (patented 1791), with the stamped blade and riveted rib, was manufactured in large numbers by Tyzack in Sheffield until the 1970s (30 years after crown blade forging ceased). Patent blades are of similar weight to crown blades.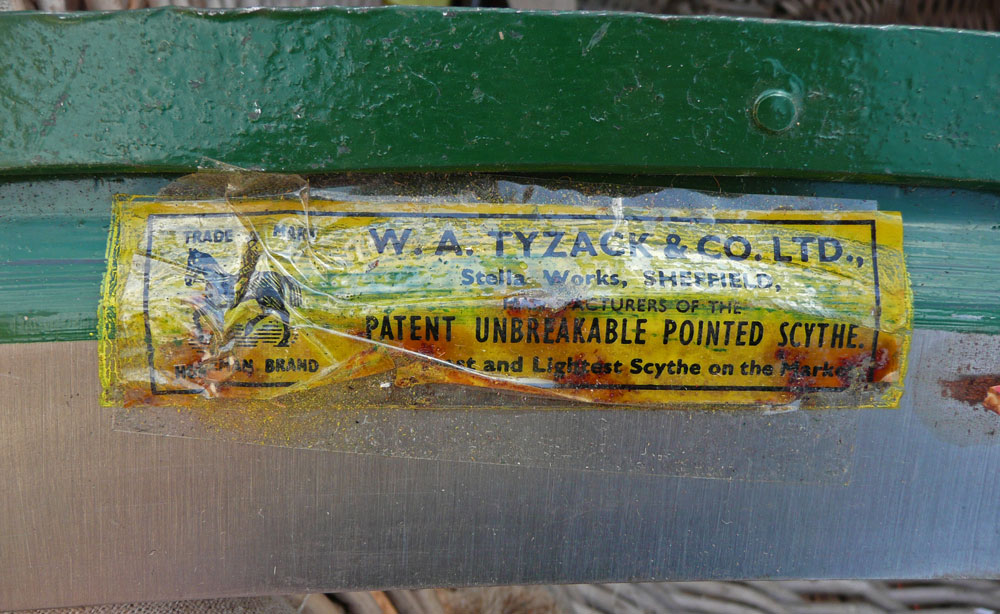 Tyzack Horseman brand patent riveted blade
Issac Nash ltd merged with toolmakers Joseph Tyzack Ltd in 1942 to become Nash Tyzack industries Ltd. The demand for scythes and other hand tools after the war fell as most farms had become fully mechanised and as a result the Belbroughton factory finally closed in 1967.  By 1972 the old company names of Nash & Tyzack as well as Brades, Elwell and others were subsumed by mergers and takeovers into Spear & Jackson plc.
Information taken from 'The Scythemen of Belbroughton' by Dorothy Cope, a nicely researched and written booklet published by, and available from, the Belbroughton History Society.
Images from an original Issac Nash catalogue.